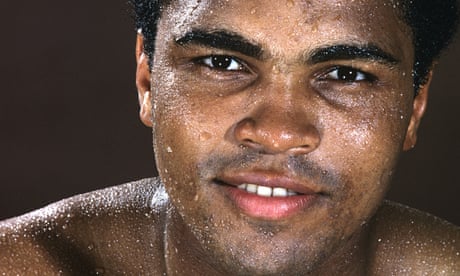 Today we learned about the passing of Mohammed Ali, born Cassius Marcellus Clay. I'm no fan of boxing, but this man was remarkable and has left an impact upon us far greater than the number of World Championships he won or his Olympic medal.
I will let his words speak for him:
"Service to others is the rent you pay for your room here on earth."
"It isn't the mountains ahead to climb that wear you out; it's the pebble in your shoe."
"Impossible is just a big word thrown around by small men who find it easier to live in the world they've been given than to explore the power they have to change it. Impossible is not a fact. It's an opinion. Impossible is not a declaration. It's a dare. Impossible is potential. Impossible is temporary. Impossible is nothing."
"A man who views the world the same at 50 as he did at 20 has wasted 30 years of his life.
"I hated every minute of training, but I said, 'Don't quit. Suffer now and live the rest of your life as a champion.'"
"If they can make penicillin out of moldy bread, they can sure make something out of you."
"I am the greatest, I said that even before I knew I was."
"Hating people because of their color is wrong. And it doesn't matter which color does the hating. It's just plain wrong."
"I've wrestled with alligators. I've tussled with a whale. I done handcuffed lightning. And throw thunder in jail."
"Live everyday as if it were your last because someday you're going to be right."
I was impressed how he stood up for what he believed and was stripped of his heavyweight title and banned from boxing for three and a half years because he refused to fight in the Vietnam War ans was convicted of draft evasion. After 31/2 years the Supreme Court of the United States ruled in his favour. I cannot see any athlete taking such a stance today at such personal cost.
He said this:
"Why should they ask me to put on a uniform and go 10,000 miles from home and drop bombs and bullets on brown people in Vietnam while so-called Negro people in Louisville are treated like dogs and denied simple human rights?,"
After his boxing career he
devoted "his life to helping promote world peace, civil rights, cross-cultural understanding, interfaith relations, humanitarianism, hunger relief, and the commonality of basic human values. His work as an ambassador for peace began in 1985, when he flew to Lebanon to secure the release of four hostages. Ali also has made goodwill missions to Afghanistan and North Korea; delivered over $1 million in medical aid to Cuba; traveled to Iraq to secure the release of 15 United States hostages during the first Gulf War; and journeyed to South Africa to meet Nelson Mandela
upon his release from prison.Look here for more of this.
So another icon has passed away this year. We are grateful for the many gifts he has left to the world.
We have lost David Bowie and Prince as well.
"I'm a real self-educated kind of guy. I read voraciously. Every book I ever bought, I have. I can't throw it away. It's physically impossible to leave my hand! Some of them are in warehouses. I've got a library that I keep the ones I really really like. I look around my library some nights and I do these terrible things to myself--I count up the books and think, how long I might have to live and think, 'F@#%k, I can't read two-thirds of these books.' It overwhelms me with sadness."
--David Bowie
"Heathenism is a state of mind. You can take it that I'm referring to one who does not see his world. He has no mental light. He destroys almost unwittingly. He cannot feel any Gods presence in his life. He is the 21st century man."
―
David Bowie
"Gentleness clears the soul
Love cleans the mind
And makes it Free."
―
David Bowie
David Bowie, star-man, we thank you for the music and the inspiration. Bowie Interview
From Prince of the Purple Rain:
"
As human beings we suffer from an innate tendency to jump to conclusions; to judge people too quickly and to pronounce them failures or heroes without due consideration of the actual facts and ideals of the period."
"There's always a rainbow at the end of every rain."
"What people have to realize is that if one has a firm belief in God and the spirit then one does not make statements that are negative and untrue."
Prince Rock and Roll Hall of Fame
We are left in the wake of three men who performed and who touched people in their different ways, with great gifts and great conviction.
Thank you to Mohammed Ali/Cassius Clay , David Bowie/Jones and Prince Rogers Nelson. Three men which passion, vision, determination and faith who made the world a better place.